Brass Band - Idea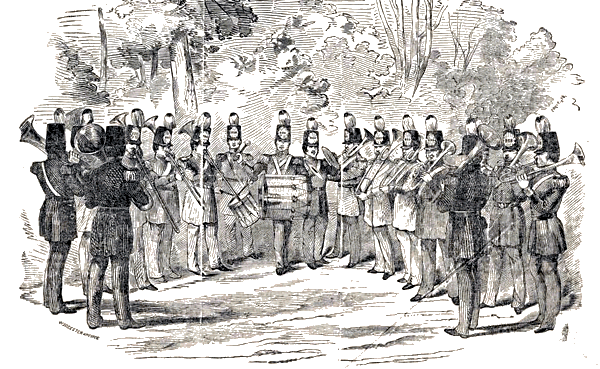 In autumn 2009 I had had the chance to play with an ad-hoc brass band. We portrayed thereby a regimental band from the time of the american civil war and made our performance in an according outfit and played some pieces of music from this time.
The performance was more or less improvisational but it brought some encouraging responses. In 2010 we collected and restored contemporary instruments and arranged an appropriate repertoire. Early in 2011 we looked intensively for additional teammates.
After several setbacks we succeeded to bring together the number of musicians in demand (8 brass players and 2 drummers) so that we were able to perform at the spring reenactment 2012 in Walldurn. It would be very difficult to repeat such a performance with the great band. Therefore, we rearranged the repertoire in autumn 2012 for a smaller band with 4 musicians only. As it was impossible to portrait a military band authentically with so few members, we performed with the small band as civilians under the name "Green County Brass Band". The project has meanwhile dwindled away.
On the following sites we present the repertoire. A gallery with pictures from previous events is as well contained.